SYSTEMIC TEAM COACHING MASTERY
for Sustainable High Performance (ICE-AC)
"Program leadership team includes pioneers and masters in Team Coaching with proven experience
leading earlier cohort participants to Team Coaching Mastery."
Program Description
Softpro Transformation Partners' s Systemic Team Coaching Mastery for Sustainable High Performance, a 09-month in-depth ICAgile Expert-level Team Coaching Cohort Program is competency-based. The game-changing program is a one-of-a-kind immersive and experiential journey with 150+ hours of synchronous curriculum designed to exponentially increase your team coaching range. 
Our program leadership team includes pioneers and masters in Team Coaching with proven experience leading earlier cohort participants to mastery. At the end of nine months, you will be able to demonstrate and practice excellence in professional and team coaching, mentoring, teaching, and facilitation.
Top 5 Outcomes
Find your people! Build your community and network of like-minded Team coaches. You will learn and practice alongside change leaders who are achieving the highest standard of Team coaching competence.
Uncover the uniqueness of your journey! We use Enneagram assessment to not only self-reveal what holds you back but also to offer insights into the journey towards strength and liberation, connecting you to your strengths and higher selves.
The Enneagram has, over the past decades, proved to be one of the most powerful tools in the development and coaching environment. The use of the Enneagram not only fast-tracks insight, growth, and integration but also gives durability and magnitude to the development process over time.
Level up your coaching skills!

Develop your skills through experience and practice, helping you to close the gap between learning and application of Team coaching competencies and skills. You'll have ample practice space to improve your new skills through demonstrations, in-cohort practice, lived experience, and assessments.

Make It Personal! Receive individual, personalized coaching and mentoring as well as group coaching and supervision. You'll also receive regular feedback, including in-depth, personalized assessments of your skills and practices from ICAgile Accredited Expert Program Leaders.
Recognize Your Achievement! Once you have completed the cohort requirements and passed ICAgile assessments, you will obtain the ICAgile Expert in Agile Coaching (ICE-AC).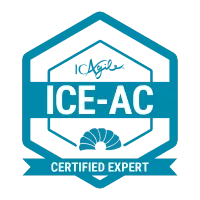 What You'll Do
Enneagram Assessment and Debrief (USD 500 Value): The Integrative Enneagram creates self-awareness and uncovers the patterns of behavior that subconsciously drive and motivate us to act in certain ways. When we make these patterns and motivations conscious, we are able to transcend them and develop richer, more supportive ways of being. Working with the Enneagram empowers individuals to take responsibility for their own behaviors and growth from a greater understanding of why they act and react the way they do.
Thought-Leaders Sessions (Priceless): 3 to 5 sessions, 2 hours each, are being planned to be taught and facilitated by thought-leaders in topics that include but are not limited to Professional Coaching, Systems Coaching, Systemic Constellations, and Professional Facilitation.
Five Experience-based Scenarios: Throughout the program, you will practice your skills using real-life scenarios developed by our co-leaders. This learning approach enables you to analyze and develop responses that include coaching plans, tools, facilitation plans, and teaching aids. We have learned from experience that this scenario-based approach enables you to learn from others' experiences, collaborate with others, and develop novel responses.
Synchronous Learning: This cohort meets weekly, with the exception of holidays, totaling more than 150+ hours of synchronous instruction. The learning includes large-group calls, small-group supervision, scenario calls, skill drills, practice spaces, and a virtual residential. We've also built in additional asynchronous learning, building upon the core class learnings.
Individual Coaching and Personalized Supervision: We strongly believe that the best way to understand the power of coaching is to receive coaching. As part of this cohort, you will receive four hours of private, individual coaching.
Assessment and Feedback: Practice and feedback are required to improve existing or developing skills; ICAgile requires that you practice each of the core skills–coaching, mentoring, teaching, and facilitating-for a minimum of 25 hours per skill for the duration of the cohort. At the program's midpoint, you'll submit recordings of each skill, submitting them for assessment and feedback to ensure that you are on track.
Interweaving Skills/Application at Work: This cohort draws upon the research of behavioral scientists such as Katy Milkman, adult-development models from Robert Kegan and Claire Graves, Christopher Avery's Responsibility Process, and more. Additionally, practical, must-have skills, such as designing alliances, crossing edges, and navigating conflict, will be modeled and taught so that you can practice and apply these skills with your organization.
Two Virtual Residentials: We'll kick off with a virtual residential, setting up our container and getting aligned with the program requirements. The first virtual residential will be held over two days, 5 hours each day. We'll also have a midpoint residential, giving us a safe space to come together and continue our in-depth exploration. The second virtual residential will be held over four days, 4 hours each day.
Supportive Learning Practice: We know that independent practice supports both learning and community. We'll create learning triads, rotating every 3-4 months. Then, toward the end of the cohort, you will participate in colleague-led calls. We also set up additional safe practice spaces outside regular sessions through coaching circles, teaching/facilitation groups, and active engagement.
By the Numbers
Each month, plan to spend 10+ hours in cohort calls, skill drills, dojo, stage work, and practice. You will also spend time each month reviewing material, practicing skills, and meeting with your triad. Ours is an intensive program, meaning that you'll need the support of your organization, teams, and those in your inner circle.
Breaking It Down
150+ total learning hours (cohort calls, skills lab, supplemental learning materials and virtual residentials)

24 hours of cohort calls
10 hours of scenario-based calls
24 hours of practice spaces
12 hours of group supervision/1:1 mentor coaching and coaching
36 hours of assignments/practice related to our sessions
26 hours of large group learning/virtual residential
18 hours in triads (will meet between scheduled sessions)
6 hours of cohort participant-led facilitation

100+ hours of logged practice (25+ hours each in coaching, mentoring, facilitation, and teaching)
Prerequisites and Program Entrance Criteria
Required Certifications
ICAgile Professional: Agile Coaching
ICAgile Professional: Agile Team Facilitation
Required Experience
1-2 years experience coaching two or more teams
Additional Factors
In addition to hands-on experience as Team coach, these factors will help you to be successful in this cohort:
Possess a growth mindset, and you have a deep passion for Agile values and principles. You want to expand your range – exponentially as an Team coach.
Support from your organization's leadership.
A current engagement where you can apply and practice the skills
Interview
Program applicants that meet the required certification and experience criteria will be interviewed by one or more of the program leaders. We do this to ensure that applicants fully understand the program's requirements and expectations, plus we can answer any lingering questions that you may have.
Key Cohort Dates
Cohort Launch
June 02, 2023 – Intro Call
June 03 – 04, 2023 (Virtual Residential – 1: Kickoff / Alignment)
Virtual Cohort Residential
November 2023 (Virtual Residential – 2: Deep Dive)
Midpoint Review
Cohort Completion
Cohort Investment:
25th Anniversary Celebration Price until March 15, 2023: $6249 (USD)
Early Bird Price until March 31, 2023: $6749 (USD)
Regular Full Price from April 01, 2023: $7249 (USD)
Arun Chinnaraju
(AEP Program Director)